Dahomey Amazons (ETW unit)
Dahomey Amazons
Category:
Infantry
Class:
Militia
Men:
40 / 80 / 120 / 160
Range:
90
Accuracy:
40
Reloading skill:
10
Ammunition:
5
Melee attack:
7
Charge bonus:
8
Defence:
3
Morale:
6
Turns to train:
1
Recruitment cost:
970
Upkeep cost:
240
Requires
Building (minimum level)
These merciless female warriors, armed with rifles, are rightly feared by men for their aggression in battle.
Originally formed as a band of elephant hunters, they were developed into a royal bodyguard recruited from among the King's wives, a group of women that sometimes numbered in the hundreds. Willing volunteers expand this force, while other recruits are put forward by disgruntled husbands and fathers who visit the King with tales of spousal misbehaviour! The Amazons are denied the right to marriage once in the regiment, and religion is used to give them a sense of being sacred.
They are extremely well trained, and inculcated with a very aggressive attitude. They are ferocious fighters with a reputation for decapitating those who are unfortunate to become their captives. Woe betide the foe that underestimates them!
Abilities
Can guard
Can hide in buildings
Can hide in light scrub
Can hide in long grass
Can hide in woodland
Can skirmish
Good stamina
Grappling hooks
Remains hidden whilst walking
Resistant to heat fatigue
Technological abilities
Chevaux de frise
Earthworks
Available for:
Unit is available when holding a region in Northwest Africa.
Note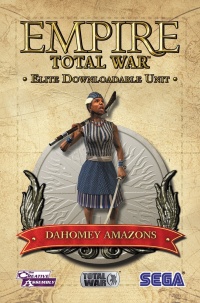 This unit is part of the Special Forces Units & Bonus Content DLC. It was originally a pre-order incentive for Amazon.co.uk.
External links