The Sword of Attila
David Gibbins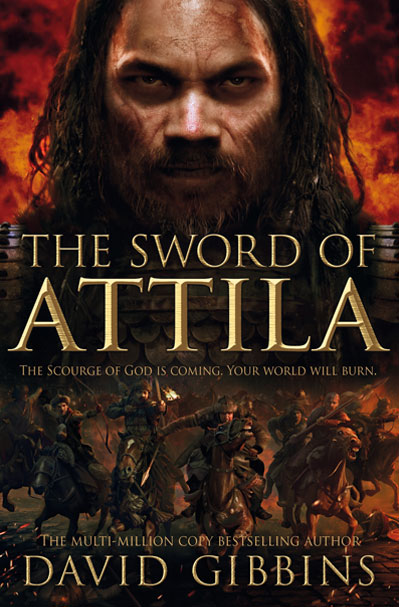 ---
The fall of Rome was just the beginning. A new empire will rise . . .
AD 439: the Roman Empire is on the brink of collapse. With shocking speed a Vandal army has swept through the Roman provinces of Spain and north Africa, conquering Carthage and threatening Roman control of the Mediterranean. But a far greater threat lies to the east, a barbarian force born in the harsh steppelands of Asia, warriors of unparalleled savagery who will sweep all before them in their thirst for conquest - the army of Attila the Hun.
For a small group of Roman soldiers and a mysterious British monk, the only defence is to rise above the corruption and weakness of the Roman emperors and hark back to the glory days of the Roman army centuries before, to find strength in history. But then they devise a plan of astonishing audacity that will take them to the heart of darkness itself, to the stronghold of the most feared warrior-king the world has ever known. In the showdown to come, in the greatest battle the Romans have ever fought, victory will go to those who can hold high the most potent symbol of war ever wrought by man - the sacred sword of Attila.
---
The two Roman prisoners lurched forward, their chains dragging the wet snow on the slope leading up to the meadow. A harsh wind whipped across the plateau that surrounded the ravine, bringing a sharp bite of winter to those gathered for the ceremony. High above them eagles soared, flown free from the wrists of their masters, waiting for the flesh and gore that would be left for them when the ceremony was over. Around the edge of the meadow great bronze cauldrons sizzled over open fires, the steam from their contents rising to form a thin mist over the people. The rich aroma of cooking meat, of beef and mutton and venison, wafted down the ravine over the circular tents of the encampment, past the spring where the holy water began its journey to the great river two days' ride to the west, at the place where the land of the hunters ended and the empire of Rome began...
Want to continue reading? The first three chapters of the book are available for free download [here]
---
Retailer Information and Release Dates Below:
If a retailer link is not given for your region, please check with your favourite bookseller.
UK – ebook 29 January 2015 (paperback to follow later this year)
USA – 27 January 2015 (hardback and ebook)
France – 26 Feb 2015 – trade paperback and ebook
Poland – 17 Feb 2015 – paperback and ebook
Hungary – 17 Feb 2015 – paperback and ebook
Greece – 10 June 2015 – paperback and ebook
Italy – 1 Jan 2015 – paperback and ebook
Germany – 9 March 2015 – paperback and ebook
Spain – February 2015 – paperback and ebook
Brazil – Early March 2015 – paperback and ebook