Sendai Faction Pack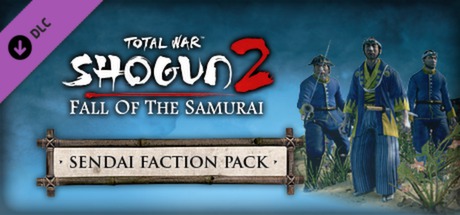 The Sendai Faction Pack adds a new playable faction to Total War: Shogun 2 - Fall of the Samurai for use in single or multiplayer campaign modes and custom and multiplayer battles.
Fiercely loyal to the incumbent Tokugawa Shogunate, the noble people of Sendai endured the ages of turmoil to emerge as respected tacticians and sublime diplomats.
Faction Traits:
Tolerance (+3 reduction to unhappiness from differences in allegiance)
Siegecraft (2 turn reduction to surrender time when besieging castles)
Tact (+10 to diplomatic relations)
Respect (+1 reduction to resistance to occupation across all provinces)
History of the Sendai
The Negotiators
Date Yoshikuni, the lord of Sendai, is loyal to the Shogunate. His family have been loyal to the Tokugawa clan since the end of the wars of the Sengoku Jidai. Then, Date Masamune had proven himself worthy, and established the domain with the blessing of the first Shogun. Even before then, the Date had been a noble and notable family of samurai, beginning as the Isa clan under the Minamoto. Given control of the Date province, and taking the name as their own, they survived centuries of turmoil. They have done this by political guile, implacable enemies, and fierce warriors. Now, as lords of Sendai, they are still all of those, even after centuries of relative peace. In battle, Sendai armies have longer when attacking, and need to defend for less time, making victory less of a race to achieve. The Date clan also have a bonus to all diplomatic efforts, and are tolerant towards people with different allegiance.