Community Q&A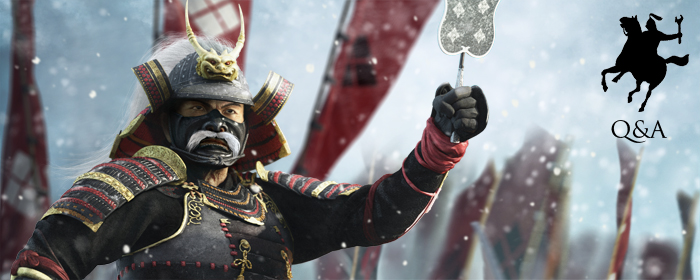 Until the Wiki is opened up to the community for editing, we'll be using this section of the site to poll the burning questions on using the Assembly Kit.
This thread currently hosts the community's questions. If you have any you'd like answering, please include them in that thread and we'll add them to a future poll.
We'll poll a range of questions below, and the five with the most votes will be the first five questions we endeavour to answer.
We'll answer one a week, starting with the most popular.
Answers
Answer #1 - 16.10.2012
The most popular question this week was "What exactly are the possibilities with the Campaign Map Reprocessing?"
The answer to this question is a little blunt: we don't fully know.
The campaign map reprocessing system is essentially the same as the process we used internally for integrating our campaign map into Shogun 2. But as with any big project, code was being written at the same time the map was built in order to support new functionality. In that context, it's entirely possible that users will hit hardcoded values along the way, which the campaign map depends on, that they will have to find clever ways to work around.
We've released the tools "as is" in the hope that the community will explore the possibilities that may exist. In theory, it should be entirely possible to create a new campaign map for Shogun 2 using the included tools.
However, the complexity of such an undertaking is sure to throw up hurdles along the way and, as a lot of the knowledge for building these maps is split across various departments at CA, it's hard to say for sure where they will occur and how high they will be.
I asked Ed Ainsley, campaign map programmer, about the map making process. He said:
"It should be possible for them to make an entirely new map, but that's going to be tricky. When we made a new map from scratch, the process looked a little like the below:
1. Make map in 3dsmax
2. Process map
3. Why didn't that work? Adjust.
4. Goto 2
With this in mind, I would strongly suggest modders start by modding the existing Shogun 2 map. First step would be a change a region (maybe move the coast or something), then split a region or add a new one. Having some familiarity with the process and its difficulties while working on a largely functional map will make their life a lot easier.
There is a lot of embedded knowledge, so the only way for them to find out what they need to know is try, and then ask if they get stuck!"
-The Creative Assembly
What question should we answer next?
New poll coming soon. Please post questions you'd like to see answered in the below thread.