Total War WARHAMMER Modding Details
Official Mod Support & Steam Workshop for Total War: WARHAMMER!
Back when we originally announced Total War: WARHAMMER, we explained that we wouldn't be able to support the game with official mod tools, as unlike other TW games, it wasn't just our game we were making this time.
However, I'm pleased to say that both Creative Assembly and Games Workshop have been working away on the paperwork over the last few months to see if we actually could get both the Assembly Kit and Steam Workshop support added to the title. And the good news is, we have.
From launch on day one, you will be able to:
1) Visit Steam Workshop For TW: WARHAMMER You'll be able to browse, follow, discuss and install available mods straight from Steam and access and manage them from the new Total War Launcher Mod Manager:
Modsselected.jpg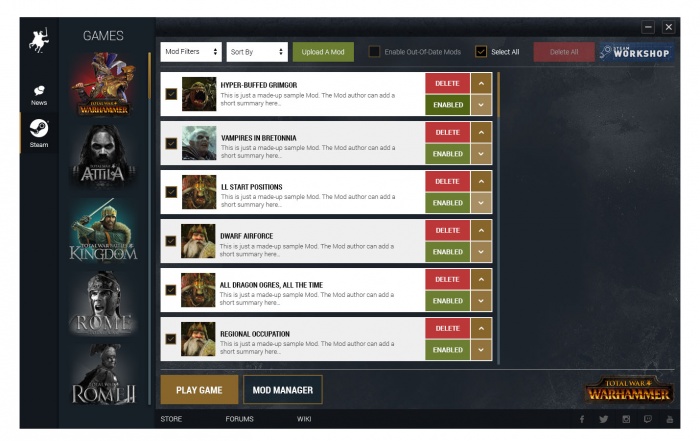 If you're a modder, you'll be able to upload, host and promote your work on the Workshop to the widest audience of players. We'll also continue to feature the best and most striking new mods on our official social media channels and the new Launcher itself.
2) Get the Assembly Kit.
We're a little short on time before launch, so it won't initially be as full-featured as previous titles, but will at least include the Database Editor and BOB for modifying and exporting database tables and campaign start positions, and packing them all into mod packs. We hope to add further functionality, such as battle map editing, later on in the year.
3) Download Mods.
We'll be talking to and looking at supplying advance access to the game to any of the modders who have attended our Mod Summits over the last three years, so we're hoping you'll be able to pick from some great mods straight out of the gate. For example, Radious will be working on a version of his famous mod series for this Total War: WARHAMMER. In addition, we will be offering dev team support to modders Dresden and Magnar, who are working on two specific mods and aiming to release them at launch.
Magnar is designing a Legendary Lord Start Position Mod; customising start positions so that Legendary Lords will start in different locations from Race Leaders.
Dresden is engineering a Regional Occupation Mod; altering the settlement rules to enable each race to settle every region.
While we hope you'll initially play the game as the designers intended, we also hope you enjoy downloading and maybe even make some great mods of your own.
As always, if you are submitting to the Steam Workshop, you should be aware of potential copyright and intellectual property conflicts; there will be further information in the game's EULA and for advice on submitting mods to the workshop and getting your content officially featured check out our content creators page on the Total War Wiki here: https://wiki.totalwar.com/w/Content_Creators.
We can't wait to see what you'll do with the game; see you on the field!