Wales (M2TW-K-BC faction)

Game: Medieval II: Total War - Kingdoms
Culture: Northern European
---
Campaign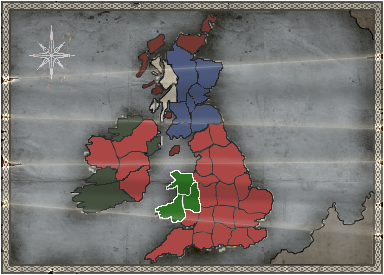 Starting position
Regions
Caernarvon - Fortress (Capital)
Montgomery - Large city
Pembroke - Wooden castle
Purse
20000
Introduction
Determined to prevent the ongoing English encroachment into Welsh territory, Llewelyn ap Gruffydd has now declared himself King of Wales, and with the help of his brother Daydd, recently succeeded in liberating the people of Gwynedd Is Conwy from their English overlords. With these defiant acts, Llewelyns intentions are now apparent to all, and open warfare on the Welsh English border is nigh.
Llewelyns greatest strength is his ability to unify the Welsh people, something which the English nobles are most aware of, and they will surely seek to end his life as quickly as possible in an effort to break the spirit of the Welsh people who follow him. As Welsh armies are primarily comprised of light infantry and archers, their generals will need to employ clever tactics to ensure their forces can overcome the armoured juggernaught that is England.
If Llewelyn is successful in ending the English threat to Wales, many believe he will not simply be content with this victory, and will instead look to ensure the Welsh people are never again threatened by another faction of the British Isles.
Strengths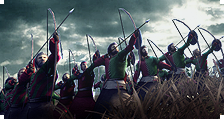 Has a number of units capable of fighting in multiple roles.
Weaknesses
Lacks heavy infantry.
Campaign rules
Long
Hold 35 regions, including: Caernarvon, Dublin, London. Eliminate factions: England
Short
Hold 25 regions, including: Caernarvon, Dublin, London. Eliminate factions: England
See also