Ireland (M2TW-K-BC faction)

Game: Medieval II: Total War - Kingdoms
Culture: Northern European
---
Campaign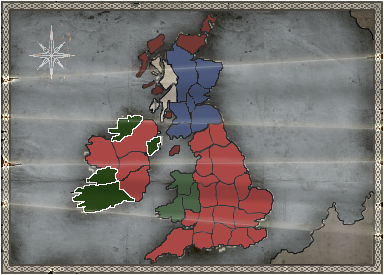 Starting position
Regions
Cork - Large town (Capital)
Downpatrick - Large town
Lifford - Wooden castle
Tipperary - Town
Purse
20000
Introduction
England's invasion of Ireland which began some one hundred years ago is still well under way. English lords have now divided up sections of their Irish conquest amongst themselves, each ruling his section mostly independently, as their King now focuses his attention on issues closer to home.
The Irish chieftains have determined their best chance of driving the English from their lands is to throw their support behind one man, fellow chieftain Brian O'Connor, who they have recently appointed King of Ireland. As their English overlords are no longer unified, the Irish people ready themselves for conflict under the banner of their new King, confident that once they reclaim their own lands, they are more than capable of taking the fight to England and beyond.
Strengths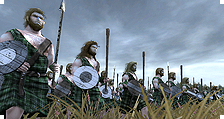 Fields a good mix of cavalry and gunpowder units.
Weaknesses
Lacks strong spear and pike units.
Campaign rules
Long
Hold 35 regions, including: Dublin, Trim
Short
Hold 25 regions, including: Dublin, Trim
See also